Company Profile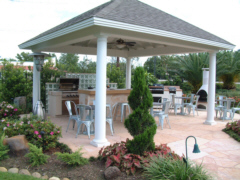 We all work hard for a place to call home. Why not make that home a paradise? Let our friendly staff of professionals dazzle you by maximizing your yard's potential. Please email us with any questions, comments or concerns.

Come Visit Our Outside Showroom
We invite you to visit our display located at 2130 FM 1092 in Missouri City, Texas 77459 (a suburb of Houston). Our display consists of a variety of landscape, hardscape and waterscape. JSB & Associates Landscape is one of Fort Bend County's leading landscape providers.

Maintenance Necessary throughout Year:
Maintain mulch on planted areas.
Spray color and other plants for insects.
Remove yellowed or unsightly foliage from plants.
Prune broken and dead branches from plants.
Stake overly tall plants.
Easy Access

When in the Houston area, head south on Highway 59 toward Sugar Land. Take the Murphy Road (FM 1092) exit. Take a left on Murphy Road and proceed in a westward direction approximately 5 miles through Highway 90 into Missouri City. We are located on the right side of the road just past 5th street.